Jesenné cyklovýlety patria k tým najkrajším, na cyklistiku v tomto období sa však treba dobre pripraviť. Prinášame vám 7 rád, ako v pohode prežiť jesenné premenlivé počasie, nižšie teploty, svieže rána a chladné večery.
1. Vrstvite
Pravidlom číslo jeden pri jesennom bicyklovaní je vrstvenie funkčného oblečenia. V cyklistike existuje univerzálny princíp troch vrstiev:
spodná (základná): Prichádza do kontaktu s telom cyklistu, udržiava telo v suchu.
stredná (tepelnoizolačná): Udržuje telesnú teplotu a vlhkosť odvádza smerom von.
vrchná (ochranná): Slúži na ochranu pred nepriaznivým počasím. Takéto oblečenie zvyčajne býva vodeodolné, vetruvzdorné, priedušné a často vybavené reflexnými prvkami.
Vďaka vrstveniu môžete regulovať teplotu, aby vám nebolo príliš teplo alebo chladno. Na jeseň obvykle cyklistom stačia dve vrstvy (spodná a stredná, alebo spodná a vrchná). Pri nižších teplotách však odporúčame obliekať si všetky tri vrstvy, aby ste sa vyhli nachladnutiu.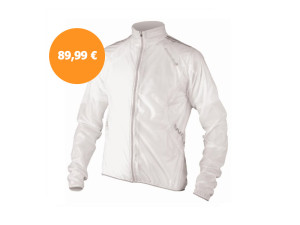 2. Zaobstarajte si funkčnú bielizeň
Základná vrstva si vyžaduje osobitnú pozornosť. Mnoho ľudí si myslí, že najlepšou voľbou je spodná bielizeň z čistej bavlny. Opak je však pravdou. Bavlna je materiál, ktorý veľmi rýchlo navlhne a nasiakne potom. Takúto vlhkosť udržuje veľmi dlho, čo môže pri menšej intenzite pohybu spôsobovať nepríjemné pocity chladu. Aby vás nestriasalo od zimy, hľadajte funkčnú spodnú bielizeň v špecializovaných cykloobchodoch. Vybrať si môžete z prírodných (ovčia vlna merino) alebo syntetických materiálov, od ktorých závisia aj vlastnosti funkčnej bielizne. Syntetické materiály majú oveľa lepšie transportné a odparovacie schopnosti, prírodná vlna merino je zase hrejivejšia a menej zapácha.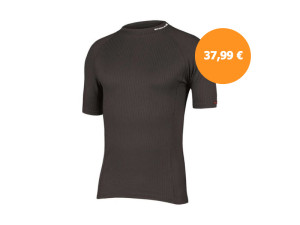 3. Noste rukavice
Vaše ruky sú jedny z prvých, ktoré pocítia zmenu ročného obdobia. S príchodom jesene vymeňte krátkoprsté rukavice za dlhoprsté, ktoré sú dostatočne priedušné a udržia vaše ruky v teple bez zbytočného prehrievania.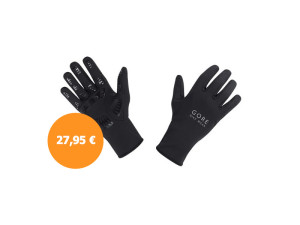 4. Majte nohy v teple
Podobne ako ruky, aj vaše nohy sú veľmi náchylné na vlhkosť a chlad. Dbajte na to, aby ste mali nohy neustále v suchu a teple. Aj v tomto prípade je lepšie úplne sa vyhnúť bavlne. Do chladnejšieho počasia sú výborné teplé vlnené ponožky. Myslite tiež na vhodnú obuv. Odvážlivci, ktorí sa vydajú aj do daždivého či veterného počasia, by si mali tiež zaobstarať špeciálne návleky na tretry, ktoré sú vodeodolné, vetruvzdorné a dobre chránia pred chladom.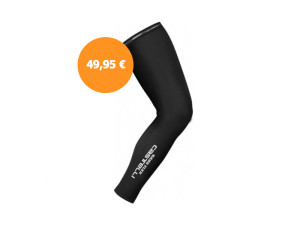 5. Chráňte si hlavu
Vedeli ste, že hlavou a krkom uniká až 30 % telesného tepla? To je dostatočný dôvod, aby sme si do chladného rána vzali čiapku alebo čelenku. Na krk pomôže šatka a oblečenie s vysokým golierom.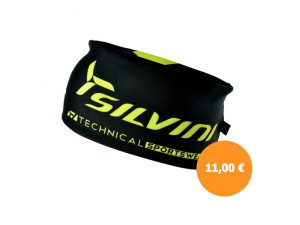 6. Pripravte sa na dážď
Jeseň nie je len babie leto plné slnka. Buďte pripravení na viac či menej očakávané prehánky. Namontujte si na bicykel blatník, noste nepremokavé oblečenie, prípadne majte vždy poruke špeciálne pršiplášte pre cyklistov. Viac tipov na bicyklovanie v daždi nájdete tu.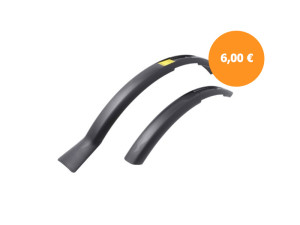 7. Nezabudnite na viditeľnosť
Čoraz kratšie dni a daždivé počasie spôsobujú zhoršenú viditeľnosť. Aby ste dobre videli na cestu, vyberte si to správne osvetlenie. Pre vlastnú bezpečnosť používajte reflexné prvky.
Komentáre
komentáre