Po príklade európskych metropol mestská cyklistika postupne ožíva aj v našich mestách. O tom, ako bicyklovať v meste bezpečne a podľa pravidiel sme už písali. Dnes sa dozviete, ako sa vyhnúť pokutám od módnej polície.
1. Zabudnite na obtiahnuté cyklodresy
Od pravidelného používania bicykla ako mestského dopravného prostriedku ľudí často odrádza predstava, že si musia vybrať medzi dobrým vzhľadom a pohodlím. Obtiahnuté dresy však už dávno nie sú jedinou pohodlnou alternatívou. Špeciálne navrhnuté kolekcie venovalo mestskej cyklistike viacero zahraničných aj slovenských módnych značiek. Ak sa práve nechystáte na celodenný cyklovýlet alebo rýchlostný tréning, sú výborným riešením.
2. Vymeňte ruksak za tašku na bicykel
Vyhnete sa tým nepríjemnostiam ako spotený chrbát či pokrčená košeľa. Okrem záchrany vášho outfitu, tašky tiež príjemne odľahčia vašu chrbticu.
3. Nenoste priveľa vrstiev oblečenia
Hovorí sa, že ak vám je príjemne teplo prvých desať minút cesty, máte na sebe príliš veľa oblečenia. Radšej si zoberte so sebou oblečenie navyše do tašky, ako po chvíli zápasiť so svetrom zaseknutým na prilbe uprostred rannej špičky.
4. Obujte sa pohodlne
Najlepšie je vybrať si obuv, ktorá pevne a pohodlne drží na nohe. Dámy sa však nemusia báť ani vysokých opätkov. Aj keď to môže vyzerať náročne, v opätkoch sa bicykluje jednoduchšie, ako chodí. Tak ako pri chodení je však bezpečnejšie začať s nižšími.
5. Zažiarte v daždi
Využite dážď ako príležitosť zažiariť vo farebnom pršiplášti. Na trhu sú rôzne, špeciálne upravené pršiplášte, ktoré sa vďaka svojmu strihu nezachytávajú do kolies. Výrazné farby sú výhodou aj pre bezpečnosť v zníženej viditeľnosť v daždi a hmle.
6. Účes pod prilbou ochráňte šatkou
Bicyklové prilby sú oddávna považované za nepriateľov dámskych aj pánskych účesov. Chvalabohu, cyklistickí módni znalci našli riešenie. Vraj si stačí vlasy pod prilbou vlasy zviazať do šatky na štýl známeho "We Can Do It!" obrázku.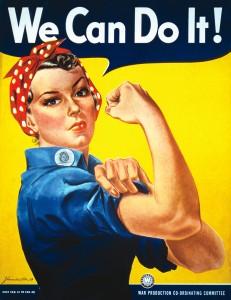 7. Dámy, nebráňte sa sukniam
Pri dodržaní základných pravidiel sú sukne najpohodlnejším mestským outfitom pre ženy. Stačí, ak si vyberiete také, ktoré nie sú príliš krátke a/alebo úzke a tým bránia v pohybe nôh. Pod sukne z ľahkých a lietavých látok odporúčame nosiť pančuchy – nie však z bavlny, tie sukne na bicykli len vyhŕňajú.
8. Inšpirujte sa skúsenejšími
Ak ráno pred skriňou potrebujete inšpiráciu, odporúčame módne blogy z ulíc Kodane alebo Amsterdamu, kde to mestskou cyklistikou doslova žije, napríklad tento.
Komentáre
komentáre